What is NACLO?
The North American Computational Linguistics Olympiad is a contest for U.S. and Canadian high-school students, who test their minds each year against fun and tricky puzzles in language, linguistics, and language technologies. No prior knowledge of linguistics, languages, technology, or computers is required: even the hardest puzzles require only your logical ability, patient work, and willingness to think around corners! For more about NACLO and to try some sample puzzles, visit the NACLO website at www.nacloweb.org.
Who do I contact for more information?
Dr. Liang Huang [email], Assistant Professor (Coordinator), or
Juneki Hong [email], PhD Student (Co-coordinator)

School of Electrical Engineering & Computer Science
Oregon State University
1148 Kelley Engineering Center
Corvallis, OR
Tel.: 541-737-4694
How do I prepare?
While no prior knowledge is necessary, the best practice is to do old Linguistics Olympiad puzzles! You can find hundreds of previous-years' puzzles at NACLO and the International Linguistics Olympiad.
What's the schedule?
Open Round, Thursday January 26, 2017:
Check-in: 8:15 to 8:30 A.M.
Students take their seats: 8:30 to 8:40 A.M.
Welcome and review of rules: 8:40 to 9:00 A.M.
Exam period: 9:00 A.M to 12:00 P.M.
(All Times Pacific)
Invitational Round, Thursday March 9, 2017
Where do I show up?
The NACLO Open Round exam will take place at the Kelley Engineering Center (KEC), 2500 NW Monroe Ave, Corvallis, in Conference Room 2057. The KEC building (which hosts the School of EECS) is located on the north side of the OSU campus, just south of Monroe Ave and 25th Street. Room 2057 is on the second floor, the north side.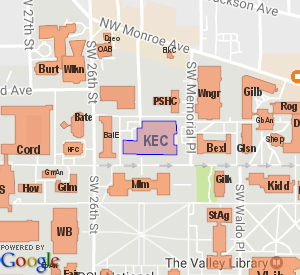 Who's eligible to participate?
Any high school or middle school student is invited to participate in the Open Round.
The top-performing students in the Open Round will be invited to participate in the Invitational Round on March 10th.
What happens in cases of school delays and closings?
Because NACLO is a nationwide exam, we must adhere to the test schedule and test with the eastern time zone on January 28. Therefore, in the event of any school closings or delays, NACLO will proceed as scheduled. Unfortunately, we will not be able to offer a make-up day for those students who were unable to make it to Carnegie Mellon in time for the exam.