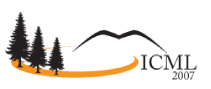 Alan Fern
1148, Kelly Engineering Center
Corvallis, OR 97333
(541) 737-9202

ICML 2007 WORKSHOPS: June 24, 2007
Chair: Alan Fern
There will be 4 workshops held at the end of ICML-2007 on Sunday, June 24, 2007 at Oregon State University, Corvallis, Oregon, U.S.A.

Please refer to the workshop web-pages below regarding submission deadlines and formats.

Workshop participants will not be given workshop proceedings in a hardcopy format. Instead, organizers of the workshops will make the proceedings available on their website prior to the conference.
Accepted Workshops