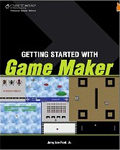 Jerry Lee Ford, Getting Started with Game Maker, 2009.

This book is good. I don't like it as much as The Game Maker's Apprentice. But, it is aimed at a lower level, and thus might be better for beginners.
It sells for $24 through Amazon. Click here to get to it.
---
Game Maker Technology Magazine
---
Game Maker version 8
Click here to get a list of new features in version 8 over version 7.
---
Oregon Game Project Challenge
The 2013 Oregon Game Programming Challenge (OGPC) will be held on May 4, 2013 at Chemeketa Community College in Salem. Click here for details.
---
Other Game Programming Resources
---
Other Stuff
Here's notes on some other fun things:
---
Comments? Suggestions? Questions? Contact:
Mike Bailey
Oregon State University, Computer Science
2117 Kelley Engineering Center
Corvallis, OR 97331-5501
541-737-2542
mjb@cs.oregonstate.edu