Mike Bailey's Blender Page
http://cs.oregonstate.edu/~mjb/blender
---
Latest update: August 2, 2020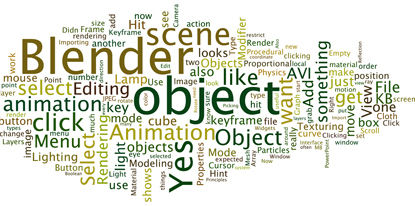 ---
Blender Campers:
Safety
We take the safety of everyone very seriously! Face-covering masks will be required of everyone during every minute of the class. No exceptions!
We will be wiping the equipment down before classes start and in the middle of the day.
The workstations have been socially distanced. Each student will be assigned one workstation for the entire week. They will spend every day on that one station. Individual stations will not be shared between students.
When and Where
The class is Monday-Friday, August 3-7, 2020, 9:00 - 12:00 in OSU's Computer Graphics Education Lab (CGEL) located in Batcheller Hall, room 244. (Room 244 is right next to the second floor stair landing.)
We start on time.
A Map
Drop-off and Pick-up:
There is a parking lot behind Batcheller Hall (north side, shown in blue on the map). That is a good drop-off and pick-up spot.
Parking:
Even though most OSU students are gone, the parking police are definitely still here. You can't park on campus near Batcheller Hall without an OSU parking permit.

There is paid parking at Bates Hall, the parking structure, and at the football stadium. If you do one of these, put money or plastic in the parking machine, put the little slip of paper on your dashboard, and walk to Batcheller Hall.

You can try parking off-campus in the neighborhoods, but I hear that this isn't always easy either. And, it annoys the people who live there. Sorry.
The Notes:
These are the notes we will be working through. You don't need to print these (thank goodness!), but we will follow along with them.
Blender is a free program. You can load it on your own system. Go to http://blender.org Click on the blue Download button.
We will be using Blender version 2.8.3, but any version that you have that is 2.8 or greater will be fine. Don't load version 2.79 -- that version is so last year! The user interface totally changed between version 2.79 and version 2.8.
These are the notes:
Latest update of these notes: August 2, 2020
Memory Stick
We recommend that you bring a memory stick to save your work on. There is no guarantee that any files you save on our CGEL machines will be there the next day. Also, there are some files below that would be handy for you to pre-load on your memory stick.
---
Blender Files:
These are Blender example files from the notes.
You can download them one-at-a-time below, of get them in one AllFiles.zip here, which includes all .blend, .jpg, .bmp, .obj, and .mp4 files.
Blender Campers: please pre-load these on your memory stick!
Obj Files:
Pre-created files that can be imported into Blender:
Blender Videos:
---
Blender 2.8* is Here!
I have been collecting additional resources to learn Blender 2.8*.
The Blender Guru (http://www.blenderguru.com/) has three great videos:
https://www.youtube.com/watch?v=VtUQNMV50Hc
https://www.youtube.com/watch?v=MyxWDHy4ppY&feature=youtu.be
https://www.youtube.com/watch?v=lPVpg4_POww
The Blender Guru has just put out a series of Blender 2.80 video tutorials (thanks, Andrew!). Find them here.
Creating hundreds of walking people -- surprisingly straightforward
https://www.youtube.com/watch?v=xWq-ZPMhai8
Sculpting in Blender 2.80
https://www.youtube.com/watch?v=A-Wq8K8icpQ&feature=youtu.be
The Blender 2.80 Reference manual is here.
A free de-noiser is described here: https://www.youtube.com/watch?v=eGAjsSNtX6E.
The new Blender 2.80 "Principled Shader": https://www.youtube.com/watch?v=4H5W6C_Mbck.
Principles of Design videos: https://www.ctrlpaint.com/videos/principles-of-design-introduction.
---
Good Web References:
---
Good Printed References:
John Blain, The Complete Guide to Blender Graphics: Computer Modeling and Animation, Fifth Edition, CRC Press, 2019.

Jason van Gumster, Blender for Dummies, Fourth Edition, Wiley, 2020.
---
Did you like these notes? Want to try some other stuff?
Here's notes on some other fun things:
Scratch notes -- drag and drop programmiung with animation and sound, and even some game development
SketchUp notes -- who would have ever guessed it was so easy to draw in 3D?
ParaView -- Interactive 3D Visualization
TinkerCAD notes -- this is really good if you want to make models that can be 3D-printed
Processing notes -- serious graphics programming
A Whirlwind Introduction to Computer Graphics
---
Comments? Suggestions? Questions? Contact:
Mike Bailey
Oregon State University Computer Science
2117 Kelley Engineering Center
Corvallis, OR 97331-5501
541-737-2542
mjb@cs.oregonstate.edu