CS 457 / 557 -- RenderMan and OpenGL Shaders
Winter Quarter 2017
http://cs.oregonstate.edu/~mjb/cs557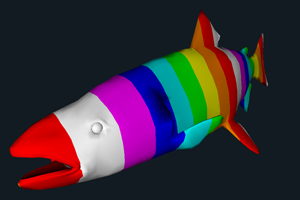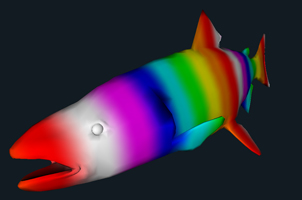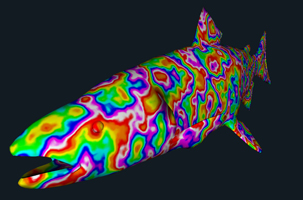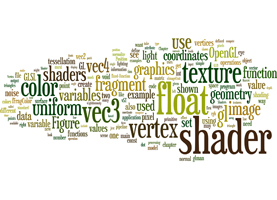 ---
---
This page was last updated: March 24, 2017
---
"Don't wake me for the end of the world unless it has very good special effects."
-- Roger Zelazny (science fiction writer)
---
Announcements:
---
What We Will Be Doing This Quarter
The goals of this course are to leave you "career-ready" (i.e., both work-ready and research-ready) for tasks, both GPU and RenderMan, that require the implementation of graphics algorithms in the form of shaders.
| | |
| --- | --- |
| You will have access to the graphics systems in OSU's Computer Graphics Education Lab (CGEL) in Batcheller Hall 244. It is also a place to get access to the OpenGL Shading Language (GLSL), although you probably have it if you've bought a good graphics card in the last 3-4 years. | |
Access to the CGEL is by the card-reader chip in your OSU ID. I will be submitting a class roster to EECS so that you can all be enabled.
CS 457/557 topics include:
A more advanced look at the graphics pipeline
A more advanced look at transformations
RenderMan
The RenderMan Interface Bytestream
RenderMan Surface shaders
RenderMan Displacement shaders
Lighting
Color
Opacity
Step boundaries
Smooth step boundaries
Positional and gradient noise
Fractional Brownian Motion (FBM, 1/f, octave) noise
The OpenGL Shading Language (GLSL)
GLSL Vertex shaders
GLSL Fragment shaders
GLSL Geometry shaders
GLSL Tessellation shaders
GLSL Compute shaders
Using shaders in visualization
Hiding data in textures
Place one of your images on the "Class Poster"
Graphics Card Levels
If you are wondering what types of shaders your own graphics card supports, check this box. You can tell what shaders the card supports by looking at the Shader Model (or Shader Level) or what DirectX / OpenGL version it supports:
| Shader Model | OpenGL | DirectX | Supporting |
| --- | --- | --- | --- |
| 3.0 | 2.x | 9 | Vertex, Fragment |
| 4.0 | 3.x | 10 | Geometry |
| 5.0 | 4.x | 11 | Tessellation, Compute |
We will cover all of these different types of shaders.
Prerequisites
You should come in having some graphics programming experience. This is not a good time to learn computer graphics and OpenGL for the first time.

CS 450/550, 419/553, or 554 are acceptable preparation. CS 491 is adequate preparation if you looked at and understood the graphics programs we used.
Learning Objectives
On completion of the course, students will have demonstrated the ability to:
Explain the difference between Model Coordinates, World Coordinates, Eye Coordinates, Clip Coordinates, Normalized Device Coordinates, and Screen Coordinates.
Explain the ModelView and Projection matrices, and what operations belong in each, and why.
Describe where surface, displacement, vertex, fragment, geometry, tessellation, and compute shaders fit into the graphics pipeline
Explain the difference between uniform, varying, and attribute variables.
Apply the concept of octave noise to shader effects.
Explain the difference between bump-mapping and displacement-mapping.
Demontrate how to use cube mapping to achieve a good approximation to reflection and refraction. Explain what is different about reflection and refraction done this way and real reflection and refraction.
Apply shaders to visualization problems
Use textures in shaders for imaging and for storing data.
Explain how to avoid the aliasing effects of sharp transitions.
Demonstrate how shaders can be used to simulate various optics effects.
Professor
The class is being taught by Professor Mike Bailey.
Prof. Bailey's Office Hours:
| | | |
| --- | --- | --- |
| Mondays | 2:00 - 4:00 | In Kelley 2117 |
| Tuesdays | 11:00 - 1:00 | In Kelley 2117 |
| Fridays | 2:00 - 4:00 | In Kelley 2117 |
| | | or, anytime my office door is open |
| | | or, by appointment -- send email |
TA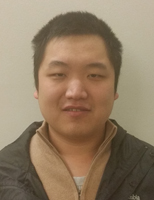 The TA for the course is Zhicheng Fu. fuz@oregonstate.edu.
He took this course a year ago. We are lucky to have a TA that is so experienced!
Zhicheng Fu's Office Hours:
| | | |
| --- | --- | --- |
| Mondays | 1:00 - 4:00 | In the CGEL (Bachelor 244) |
| Tuesdays | 2:00 - 5:00 | In the CGEL (Bachelor 244) |
| Thursdays | 9:00 - 12:00 | In the CGEL (Bachelor 244) |
| Thursdays | 3:00 - 6:00 | In the CGEL (Bachelor 244) |
| | | or, by appointment -- send email |
The Virtual Hand Raise (VHR)
It takes courage to ask a question in class. But, the worst thing of all is to not ask! So, this class also has the Virtual Hand Raise. Click here to get into it. It will allow you to send me a question or comment, completely anonymously. I will answer questions submitted this way by email to the class or in class.
Optional Textbook
This book was written based on the Oregon State University shaders class notes.
Bailey and Cunningham, Graphics Shaders: Theory and Practice, Second Edition, CRC Press, 2012. ISBN: 978-1-56881-434-6.

You are not required to get it. However, it has more detailed information than the course notes do.

If you want it, it is available through Amazon, or through CRC Press.

There is one in the CGEL "library", but chained to a bookshelf is a tough way to read a book.

Other course material will consist of printable notes, web pages, and notes taken in class.
Other Good References
John Kessenich, Graham Sellers, and Dave Shreiner, OpenGL Programming Guide, 9th Edition, 2017.

Steve Upstill, The RenderMan Companion, Addison-Wesley, 1990.

Tony Apodaca and Larry Gritz Advanced RenderMan: Creating CGI for Motion Pictures, Morgan Kaufmann / Academic Press, 2000.

Saty Raghavachary, Rendering for Beginners: Image Synthesis using RenderMan, Focal Press, 2005.

Randima Fernando, GPU Gems, NVIDIA, 2004.

Matt Pharr, Randima Fernando, GPU Gems 2, NVIDIA, 2005.

Hubert Nguyen, GPU Gems 3, NVIDIA, 2007.
The Shreiner and Upstill books are in the "CGEL Library".
Class Schedule
To see an Academic Year calendar, click here.

Class time is: Monday, Wednesday, and Friday, 10:00 - 10:50.

Be sure to check the class room in the table below to see what days we will be in Owen 101 and what days we will be in the Computer Graphics Education Lab (CGEL -- Batcheller Hall room 244).
Date
Room
Topics
1
Jan 9
Owen 101
Introductions. General course information. Project #1.
The graphics pipeline -- how it really works.
Homogeneous coordinates.
Coordinate systems: Model, World, Eye, NDC, Clip, Screen.
2
Jan 11
Owen 101
Introduction to RenderMan:
RenderMan coordinate system, RIB files
3
Jan 13
Owen 101
Shaders, built-in functions and variables
Uniform and Varying variables
bvrman.
RenderMan surface and displacement shaders
4
Jan 16
-----
Martin Luther King holiday -- no class today
5
Jan 18
Owen 101
More RenderMan: displacement shaders
6
Jan 20
-----
Prof. Bailey out of the office -- no class today
7
Jan 23
Owen 101
Noise: Positional, Gradient. Cubic and quintic interpolation. Fractional Brownian Motion (FBM, 1/f), turbulence. RenderMan-to-GLSL transition.
8
Jan 25
Owen 101
Introduction to the OpenGL Shading Language (GLSL)
How GLSL is similar to, and different from, RenderMan shaders
Attribute, Uniform, and Varying variables GLSL built-in functions and variables
glman
Vertex shaders
Geometry Morphing
9
Jan 27
Owen 101
Grab the file Jan27.zip and unzip it into its own folder.
More glman
Checkers
Z-buffer pollution
Stripes in model vs. world coordinates
Noise stripes
10
Jan 30
Owen 101
Fun-with-one.
More fun with vertex shaders: Dome projection, Hyperbolic geometry. Fragment Shaders, I
Lighting
11
Feb 1
Owen 101
Registration for the February 15 EECS Industry Reception starts today!
Fragment Shaders, II
GLSL Textures: unsigned byte, floating point, 2D, 3D, parameters, binding, texture units, multitextures, sampler functions
GLSL Noise
12
Feb 3
Owen 101
Cube mapping. Reflection, Refraction.
13
Feb 6
Owen 101
Test #1 review.
Cube mapping, continued.
14
Feb 8
Owen 101
Bump mapping, I
15
Feb 10
Owen 101
Test #1
16
Feb 13
Owen 101
Go over test answers
Discuss the Final Project.
Image Manipulation, I
Don't forget that tomorrow is Valentine's Day.
17
Feb 15
Owen 101
Image Manipulation, II
The EECS Industry Reception is tonight.
The Winter Quarter Engineering Career Fair is tomorrow -- you should go!
18
Feb 17
Owen 101
The optics of rainbows
The optics of diffraction
The optics of lenses
19
Feb 20
Owen 101
Geometry Shaders, I
20
Feb 22
Owen 101
Geometry Shaders, II
21
Feb 24
Owen 101
Written Final Project proposals due
Finish Geometry Shaders
22
Feb 27
Owen 101
The GLSL API. The glslprogram C++ class.
23
Mar 1
Owen 101
Tessellation shaders, I
24
Mar 3
Owen 101
Tessellation shaders, II
25
Mar 6
Owen 101
Scientific Visualization using shaders
26
March 8
Owen 101
Scientific Visualization using shaders
27
March 10
Owen 101
Compute Shaders
28
March 13
Owen 101
Compute Shaders
Vulkan
29
March 15
Owen 101
Class Evaluations
Test #2 review.
More Information
30
March 17
-----
Prof. Bailey out of the office -- no class today
*
March 22
Owen 101
Test #2 Wednesday, March 22, 9:30 - 11:00 AM.
(You can confirm this for yourself by going here.
Project Turn-In Procedures
Bonus Days and Late Assignments
Projects are due at 23:59:59 on the listed due date, with the following exception:

Each of you has been granted 5 Bonus Days, which are no-questions-asked one-day extensions which may be applied to any project, subject to the following rules:
No more than 2 Bonus Days may be applied to any one project
Bonus Days cannot be applied to tests
Bonus Days cannot be applied such that they extend a project due date past the start of Test #2.
Click here to get a copy of the Bonus Day Submission Form. Fill this out and turn it in within a week after turning in your project.
Grading
Grades will be posted through this web page. To protect your privacy, they will be posted by your alias that you give me in Project #1.

Click here to see the current grade posting.

CS 557 will be graded on a fill-the-bucket basis. There will be 7 projects, 10 quizzes, and two tests. You get to keep all the points you earn.

Your final grade will be based on your overall class point total. Based on an available point total of 1120, grade cutoffs will be no higher than:
| | |
| --- | --- |
| Points | Grade |
| 1070 | A |
| 1050 | A- |
| 1030 | B+ |
| 1010 | B |
| 990 | B- |
| 970 | C+ |
| 950 | C |
| 930 | C- |
| 910 | D+ |
| 890 | D |
| 870 | D- |
Downloadable Files
Handouts
Don't print these until you are told to do so in the Announcements section.
Sometimes I will put notes out here that are not quite complete, just to show you where we are headed.
Executables
These executables are all loaded on the CGEL machines, but you can also get them here in case you want to run them on other Windows machines.
The bvrman executable is not included here because it looks for a local copy of RenderMan in order to work. Unless you have RenderMan installed on your own computer, you will need to do the RenderMan work in the CGEL.
You might also need these dlls:
Class Rules
Students With Disabilities
Accommodations for students with disabilities are determined and approved by Disability Access Services (DAS). If you, as a student, believe you are eligible for accommodations but have not obtained approval please contact DAS immediately at 541-737-4098 or at http://ds.oregonstate.edu. DAS notifies students and faculty members of approved academic accommodations and coordinates implementation of those accommodations. While not required, students and faculty members are encouraged to discuss details of the implementation of individual accommodations.

.
Religious Holidays
Oregon State University strives to respect all religious practices. If you have religious holidays that are in conflict with any of the requirements of this class, please see me immediately so that we can make alternative arrangements.
Other Useful Online Graphics and Shader Information