Mike Bailey's Processing Page
http://cs.oregonstate.edu/~mjb/processing
---
Latest update: July 25, 2022
---
2022 Processing Campers:
Welcome to the 2022 Processing Camps! We're excited to have you here.
Camp is Monday July 18 - Wednesday July 20. The on-campus camp is 9:00 AM - 12:00 noon. The online (Zoom) camp is 1:00 PM - 4:00 PM PDT. We start on time!
On-Campus Camp
Online (Zoom) Camp
Time: 9:00 - 12:00 PDT We start on time.
Time: 1:00-4:00 PDT We start on time.
Location: OSU's Computer Graphics Education Lab (CGEL), located in Batcheller Hall, room 244. (Room 244 is right next to the second floor stair landing.)
Location: The Zoom-room to come to is:
https://oregonstate.zoom.us/j/8340727662?pwd=b01tZ0hJUzdHNUtrdTRqSkdwbG4zdz09
A Map: Map to the CGEL.
--------------------
Drop-off and Pick-up: STEM Academy is coordinating a drop-off and pick-up point on Monroe Avanue in front of Rogers Hall. An adult will walk campers to and from the CGEL.
--------------------
Parking: Parents are welcome to bring campers to the CGEL and/or pick them up there. But, then you will need to worry about parking. Even though most OSU students are gone, the parking police are definitely still here. You can't park on campus near Batcheller Hall without an OSU parking permit.

There is paid parking at Bates Hall, the parking structure, and at the football stadium. If you do one of these, put money or plastic in the parking machine, put the little slip of paper on your dashboard, and walk to Batcheller Hall.

You can try parking off-campus in the neighborhoods, but I hear that this isn't always easy either. And, it annoys the people who live there. Sorry.

--------------------
Important to Know: You need to have tested Processing on your own machine before camp starts. In your favorite web browser, go to: https://p5js.org/ You don't have to do anything with Processing yet, just make sure you can get it running.
We won't be taking time at the start of class to get your Processing up and working - we will dive right into using it. If you try this ahead of time and can't get it to run, email me at: mjb@cs.oregonstate.edu
Final Thoughts for Both Camps:
We have a teaching assistant for both the on-campus and the online version of this camp! Her name is Madeline Nason. We are lucky to have her!

We will be following the notes below. Go ahead and take a peek if you want a head start. I will be fine-tuning these notes throughout this week, so check if the date on them has changed.

Processing is a lot of things. We won't have time to cover them all. If there are parts of Processing that you are especially interested in learning, let me know at: mjb@cs.oregonstate.edu so that I can attempt to cover them.

Any questions or concerns about the camp? Send me an email at mjb@cs.oregonstate.edu
Daily Challenges for Processing Campers:
Monday Challenge:

Make a scene with at least 3 shapes, each with a different color.
Make a scene using a for-loop.
Tuesday Challenge:
Use an if-statement in making a scene.
Read the mouse and keyboard and do something visual with those calues.
Wednesday Challenge:
Work on your own project.
Survey Forms.
The Notes:
These are the Processing notes we will be working through. (Part of them, not all, whew, thank goodness.) You don't need to print these, but we will follow along with them.
We will be using a version of Processing called p5.js, but any version that you have should be fine.
Latest update of these notes: July 25, 2022
Quick References:
| | |
| --- | --- |
| Processing Quick Reference Sheet | Here |
| A Simple List of Processing Variables and Functions | Here |
| A Fairly Complete List of Processing Variables and Functions, Sorted by Name | Here |
| A Fairly Complete List of Processing Variables and Functions, Sorted by Category | Here |
---
Individual Note Sets from our University Processing Class
---
Projects from our University Processing Class
---
If you want a book, get this one!
Of all the Processing books I have seen, I like this one the best: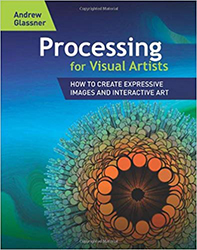 https://www.amazon.com/Processing-Visual-Artists-Expressive-Interactive/dp/1568817169/ref=sr_1_10?s=books&ie=UTF8&qid=1541098991&sr=1-10&keywords=glassner

The price is due to the fact that there are lots of color pages in it. There are cheaper Processing books, but they use black-and-white imagery, which makes it much harder to see what is going on.

Truth-in-advertising: Andrew Glassner is a long-time computer graphics friend of mine. Nevertheless, this is still the best Processing book I have seen. I would say that even if I disliked him.
---
Did you like these notes? Want to try some other fun notes from Oregon State University?
---
For more information, contact:
Mike Bailey
Oregon State University
Professor, Computer Science
Kelley Engineering Center
Corvallis, OR 97331-0505
mjb@cs.oregonstate.edu