Welcome to Eugene Zhang's home page
I am a Professor in the School of Electrical Engineering and Computer Science at Oregon State University. My research is in the areas of Computer Graphics, Scientific Visualization, and Geometry Processing. Visit my research page for my past work.
My Complete and Most Recent CV
My Current NSF Project: IIS-1619383: Three-Dimensional Asymmetric Tensor Field Analysis for Novel Multi-Field Visualization of Vector Fields
Latest News
8/18/2017 Our research paper on N-ary relationship visualization has been accepted by SIGGRAPH ASIA 2017 Symposium on Visualization. .
8/6/2017 Our research on simulation and visualization has been featured by NSF (Twitter, Facebook, Instagram). It is also featured by NSF Science video. This research is also featured by HPC.
7/30/2017 Two of our papers have been conditionally accepted by SIGGRAPH ASIA 2017. The first one features volumetric tensor field design with application in solid texture and geometry element synthesis. The second one makes use 2D tensor field topology in path planning. More details will follow.
7/25/2017 Dr. Chi-Han Peng from KAUST visits us today and will talk about research on mesh connectivity editing.
7/24/2017 Dr. Yu-Chi Lai from National Taiwan University of Science and Technology visits us today and will talk about research conducted by his research group.
7/21/2017 My student Prashant Kumar successfully passed his preliminary exam and is one last step away from receiving a Ph.D.
7/12/2017 I gave a talk on asymmetric tensor field analysis with applications in vector field visualization, fluid dynamics, and earthquake engineering. The talk is part of the minisymposium at the SIAM Applied Geometry Conference.
7/11/2017 Our paper on the design and visualization of branched covering spaces has been accepted by IEEE Visualization conference 2017. This is one of the first math visualization papers that I worked on. See my research page for the paper and an executable version of the program.
7/1/2017 Our team building proposal has been awarded by the OSHU/OSU cancer seed funds. We will work with Professors Joe Gray and Wei Huang on using visualization and simualation to improve cancer treatment.
6/29/2017 My student Botong Qu successfully passed his preliminary exam and is one last step away from receiving a Ph.D.
6/22/2017 We welcome our high school interns: Jessie Li, Sheena Huang, Pragyna Naik, and Aldo Magana. They will be spending eight weeks with us learning programming and research in computer graphics and visualization.
My student collaborators: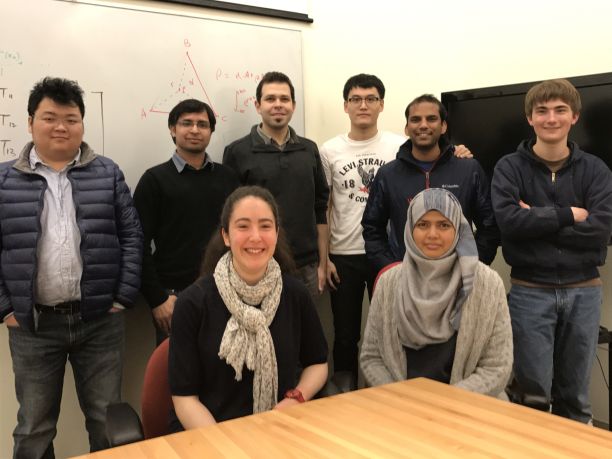 Guoning Chen (Ph.D. granted in 2009, faculty at University of Houston)
Qingqing Deng (M. Eng. granted in 2012, at Google)
Greg Esch (M.S. granted in 2009, at NVidia)
Xiaofei Gao (M.S. granted in 2018)
Sanaz Golbabaei (M.S. granted in 2016, at Tableau)
Mariam Guizani (M.S. granted in 2018)
Vivek Jadye (M.Eng. granted in 2011, at Mathworks)
Mizuki Kagaya (M.S. granted in 2009, at Pacific Software Publishing)
Fariba Khan (Ph.D. student)
Prashant Kumar (Ph.D. student)
Zhongzang Ray Lin (M.S. granted in 2010, at Amazon)
Lawrence Roy (Ph.D. student)
Patrick Neill (M.S. granted in 2008, at NVidia)
Jonathan Palacios (Ph.D. granted in 2015, at Stellar Science)
Darrel Palke (M.S. granted in 2010, at Intel)
Botong Qu (Ph.D. student)
Ritesh Sharma (M.S. granted in 2017, at PASSUR Aerospace, Inc)
Ian South-Dickinson (B.S. granted in 2007, at NVidia)
Jun Zhang (M.S. granted in 2009)
Jinta Zheng (Ph.D. student)


Be sure to check out some images from students taking my past graphics classes.

Dr. Yue Zhang and I are running a weekly reading group on computer graphics, scientific visualization, and simulation related topics. I used to run a similar reading group.

Contact information:
Prof. Eugene Zhang
2111 Kelley Engineering Center
School of Electrical Engineering and Computer Science
Oregon State University
Corvallis, OR 97331
(541)737-8599 (o)
zhange@eecs.oregonstate.edu