What We Will Be Doing This Quarter
The worlds of science and engineering are being smothered with data. In both simulation and sensing, datasets are becoming larger and easier to obtain. This creates a fundamental crisis in that scientists and engineers are under pressure to be able to understand larger amounts of data in less time, and be able to show and explain it to others.
This course will cover the fundamentals of 3D scientific and engineering multidimensional data: how to create datasets and how to formulate them so that good visualization is possible. It will cover the visualization of such data using techniques such as 2D graphics, 3D graphs, contours, isosurfaces, terrains, flows, and volumes. The class will also cover displaying time-varying data through the use of animations.
Introductory courses in computer graphics emphasize converting geometry into a display. In visualization, we also need to know about converting data into geometry: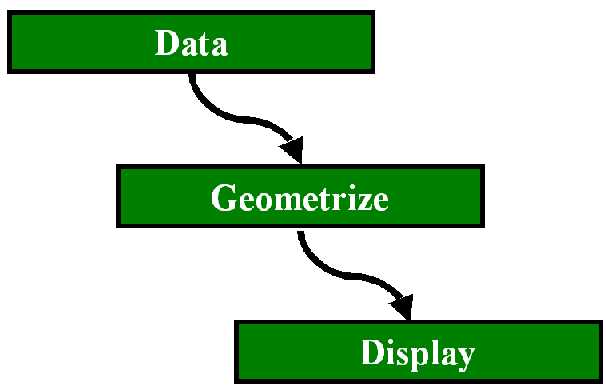 The goals of this course are to leave you "career-ready" i.e., both work-ready and research-ready) for tasks that require 3D graphics to understand and gain insight into complex scientific and engineering data. We will cover a variety of topics in advanced computer graphics and scientific/engineering visualization.
For some of the projects, we will use a free, open source, visualization package called Paraview.
Paraview runs on Windows desktop systems, and can be freely downloaded from. https://www.paraview.org/download/.
There are Linux and MacOS versions of ParaView, but they are the multi-CPU flavor.
For other projects, you will write your own C/C++ OpenGL code, although you will be given a skeleton that does all of the program "boilerplate" for you, leaving you to do the very specific parts of the visualization. The idea is that, at some point, you can't avoid writing your own code. This happens when (1) what you want to do exceeds the capabilities of any of the packages or (2) you want to integrate visualization techniques into some other piece of code.