PRESS COVERAGE & NEWS
May 2018:
Story about Prof. Conley: Influencing Career Paths: John Conley's career and life were shaped by his undergraduate days at The Pennsylvania State University. Read more here.
December 12, 2017:
Story about Melanie Jenkins: Seeing the Unseen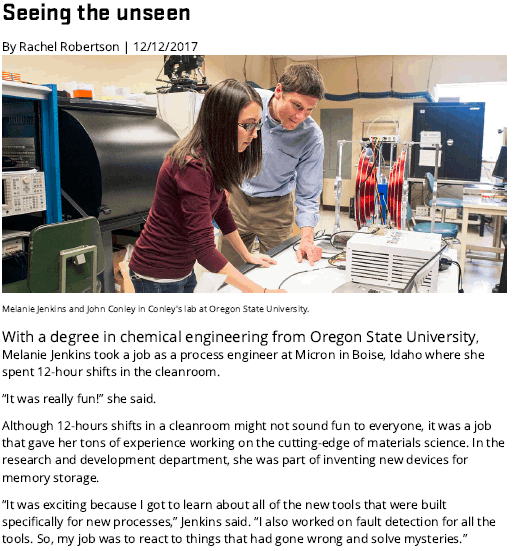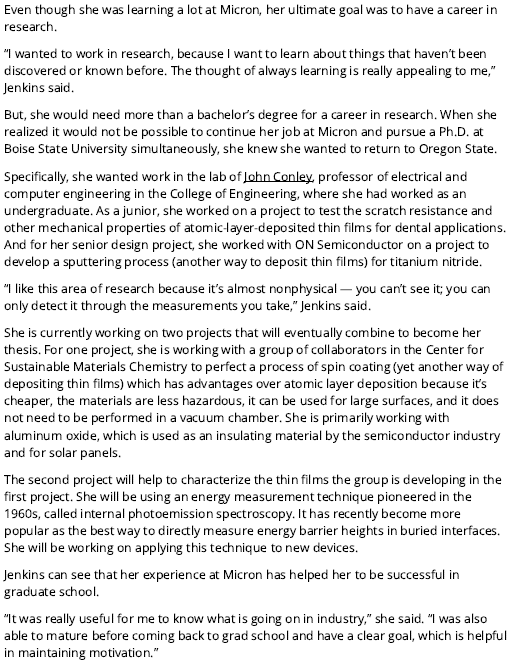 September 8, 2017:
Konner Holden takes 2nd place: Undergraduate student research assistant Konner Holden's poster presentation at the Pacific Northwest American Vacuum Society (AVS) meeting entitled, "High-Voltage Nanolaminate Metal-Insulator-Insulator-Metal (MIIM) Tunnel Diodes using ALD Al2O3 and Ta2O5," by D.Z. Austin, M.A. Jenkins, K. Holden, J.F. Conley, Jr. wins 2nd place, which included a cash prize!
July 18, 2017:
Prof. Conley chair of the 2017 American Vacuum Society (AVS) International Conference on Atomic Layer Deposition (ALD), Denver, CO, July 15-18, 2017, that set an all time record of 923 attendees. Three current (Melanie Jenkins, Konner Holden, and Dustin Austin, now at Lam Research) and one former (Sean Smith, Sandia National Labs) Conley group students gave oral presentations.

June 2, 2017:
Our recent paper in Applied Physics Letters, "Electrode modulated capacitance-electric field nonlinearity in metal-insulator-metal capacitors," by D. Z. Austin, K. E. K. Holden, J. Hinz, and J. F. Conley Jr. was distinguished as an APL Editor's Pick. It was highlighted on the journal homepage the week of Jul 02 2017.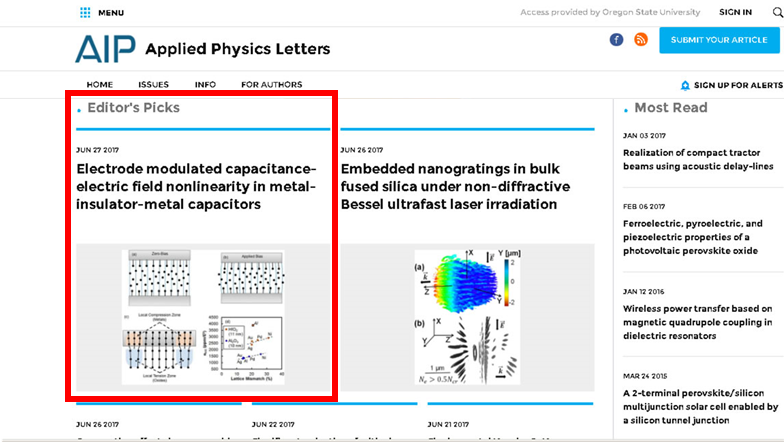 February 17, 2017:
Conley Group graduate student Kamesh Mullapudi wins "Best Poster Award for EECS" at the OSU Grad Research Showcase, for "Low-field Electrically detected Magnetic Resonance for defect detection in 4H-SiC FETs and a-SiC:H dielectrics". Read about it here.
From OSU COE, School of EECS 2015-2016 Highlights, January 2017: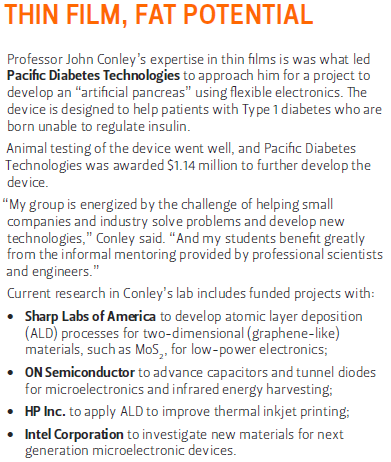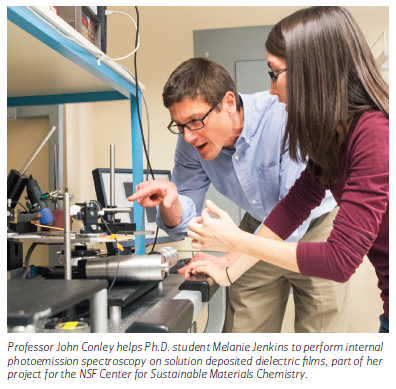 From 2014-15 OSU College of Engineering, School of EECS Top 10 Research Highlights, January, 2016: Prof. Conley and Dustin Austin areon the cover: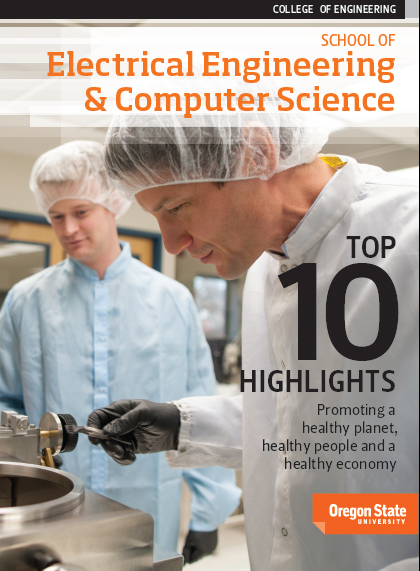 2016-2017: Prof. Conley is the Program Chair of the 2017 American Vacuum Society (AVS) International Conference on Atomic Layer Deposition (ALD), Denver, CO, July 15-18, 2017.
ALD MoS2 project (sponsored by Sharp Labs of America):
From BALD Engineering, February 2016, "Oregon State present ALD of 2D alternate channel material MoS2 on 6 inch wafers" MoS2 is a two dimensional transition metal dichalcogenide material. With a direct bandgap of 1.8 eV when in monolayer morphology, it overcomes one of the limitations of graphene - the lack of a bandgap. The work demonstrates atomic layer deposition (ALD) of one to two monolayer MoS2 over 150 mm quartz and SiO2 patterned Si wafers. Applications such as an alternate channel material for MOS devices and catalysis applications are envisioned.
From Beneath the AVS Surface, April 2016, "Atomic Layer Deposition Shown to Produce Quality 2D Thin Films," In the latest issue of the Journal of Vacuum Science and Technology A, researchers at Oregon State University and Sharp Labs of America demonstrate how they were able to successfully use a technique known as atomic layer deposition (ALD) to deposit one to two monolayers of MoS2 on large area silicon and quartz substrates..."We found that we could consistently deposit a one-to-two monolayer 2DMoS2 film uniformly over a large surface area," Conley said. "Annealing the film in sulfur allowed us to see a strong photoluminescence peak, a hallmark of a monolayer material." .pdf
From OSU COE EECS Featured Stories, 4/27/16, "Blending electrical and chemical engineering," Making advances in two-dimensional semiconducting materials was beyond the scope of what Arturo Valdivia could imagine for himself when he was growing up in the small town of Nyssa in Eastern Oregon. But his first research project as a graduate student was not only published in the Journal of Vacuum Science & Technology A, but it was selected as the "Editor's Pick" and was on the journal's most read list. The article was also featured in Beneath the AVS Surface, a news publication for the American Vacuum Society... - .pdf

Glucose Sensing Project:
From Fall 2015 Momentum! (Oregon State COE Alumni Magazine) article about additive manufacturing, featuring Conley Lab student, Kamesh Mullapudi on the front cover. "Biosensors for continuous glucose monitoring"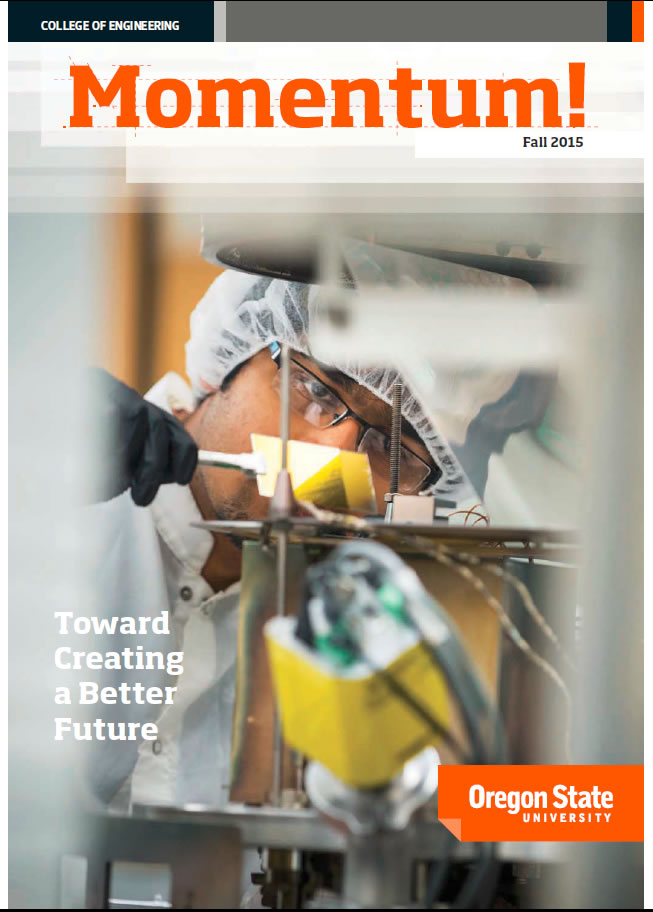 NSF National Nanotechnology Coordinated Infrastructure (NNCI) sites announced: From Portland Business Journal, 9/17/15 Northwest Nanotechnology Infrastructure (NWNI), OSU lands a piece of $4.5M NSF nanotechnology grant
Diabetes Project: From 3D Print.com:Oregon State University Researchers Turn to 3D Printing to Help Manage Diabetes17Mar2015- Engineers at Oregon State University in collaboration with Pacific Diabetes Technologieshave used "additive manufacturing" to create an improved type of glucose sensor for patients with Type 1diabetes, part of a system that should work better, cost less and be more comfortable for the patient.
Prof. Conley IEEE Fellow: John Conley's career honored with IEEE Fellow status - On Jan. 1st 2015, Prof. Conley was elevated to the grade of IEEE Fellow. "The total number selected in any one year cannot exceed one-tenth of one- percent of the total voting membership. IEEE Fellow is the highest grade of membership and is recognized by the technical community as a prestigious honor and an important career achievement."
Brief Overview of Conley Lab: Thin film, fat potential - Spring 2014 Momentum! (Oregon State COE Alumni Magazine) article about some of the research in the Conley Lab (see full Magazine here)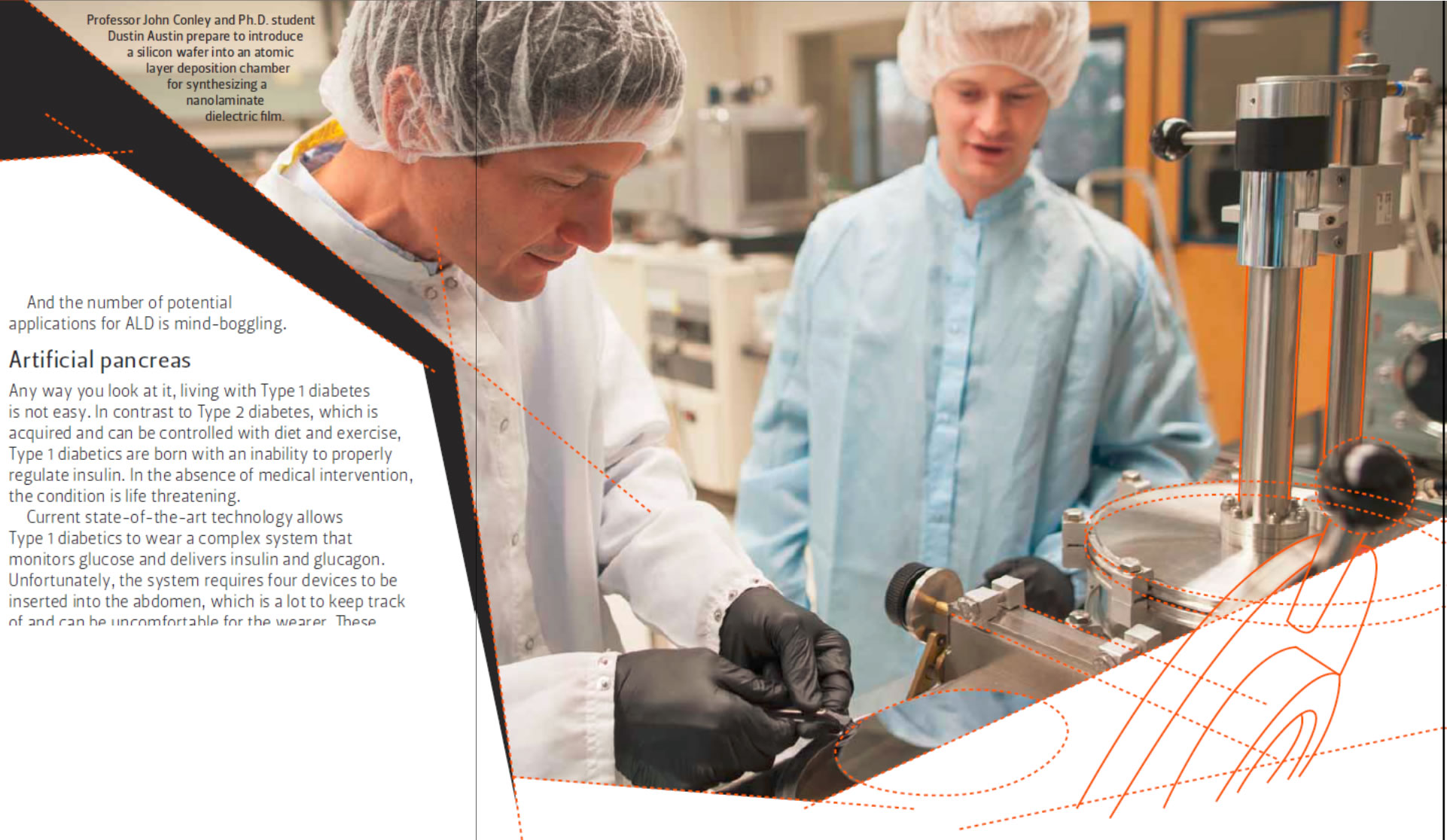 Artificial Pancreas Project: Students partner to develop diabetes breakthrough - 12Dec2013 - OSU Industry Connect article about our collaboration with Pacific Diabetes Technologies
MIIM Diodes: Quantum MIIM Diodes Beat Silicon - 6Sept2013 - EETimes.com article about our recent paper in Applied Physics Letters
ZTO Memristors: Memristors based on transparent electronics - 21Sept2012 MaterialsToday.com article about our recent paper in Solid State Electronics.
MIM Diodes: Researchers claim better 'quantum tunneling' - 1Nov2010 EETimes article about our recent paper in Advanced Materials.
ALD Facilities: 2Nov2010Arradiance Ships First Benchtop GEMStar™ Atomic Layer Deposition System to Oregon State University
Funding Opportunities
Oregon Nanoscience and Microtechnologies Institute (ONAMI)
NSF
ARL
AFOSR
DOE
SRC
OSU Quick Links
Library
Electronic Journals
Web of Knowledge
Materials Synthesis and Characterzation (MASC) Facility

Societies
Materials Research Society
IEEE
American Vacuum Society
Electrochemical Society
Misc
Lab "Family Tree" J.F. Conley in upper left, Nobel Prize winners indicated in red.
Lenahan Lab at Penn State
Pagey