Mike Bailey's Vulkan Page
mjb@cs.oregonstate.edu
http://cs.oregonstate.edu/~mjb/vulkan
---
Word Cloud from the notes: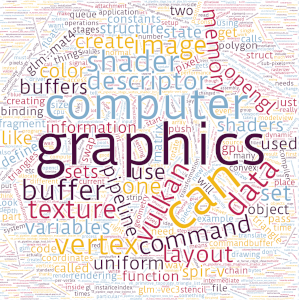 ---
This page was last updated: March 6, 2020
---
SIGGRAPHers, look here!
SIGGRAPH Asia 2019 (held this year in Brisbane, Australia) accepted the Vulkan course -- woo-hoo! The Introduction to the Vulkan API course was Tuesday, November 19, 2:15 - 6:00. Thanks to all who came!
Here are the notes, updated the evening of November 19:
Here is the ZIPped Visual Studio 2019 solution for the Vulkan program we will use in the course: Sample2019.zip
Here is the sample.cpp program from that ZIPped solution.
Here is the SampleVertexData.cpp file that defines the geometry from that ZIPped solution.
Here is the vertex shader, sample-vert.vert, from that ZIPped solution.
Here is the fragment shader, sample-frag.frag, from that ZIPped solution.
Here is the Khronos Group's Vulkan 1.1 Quick Reference Card.

These materials are licensed under a Creative Commons Attribution-NonCommercial-NoDerivatives 4.0 International License.
(This means that you are free to go off and use these for anything non-commercial so long as you give proper attribution. Have fun!)
Resources
Here are some Vulkan-related resources I have found handy:
General Vulkan-related Fun:
The Vulkan "Bunny Button":


These are my three favorite class photos:
| | |
| --- | --- |
| | Graham Sellers, Vulkan Programming Guide, Addison-Wesley, 2017. |
It is available through Amazon.
Downloadable Files
---
Projects We Used in the Oregon State University Vulkan Class
---
Other Notes You Might Enjoy!
A Whirlwind Tour of Computer Graphics
Whirlwind
---
Other Useful Online Graphics and Shader Information
---
Comments? Suggestions? Questions? Contact:
Mike Bailey
Oregon State University, Computer Science
2117 Kelley Engineering Center
Corvallis, OR 97331-5501
541-737-2542
mjb@cs.oregonstate.edu